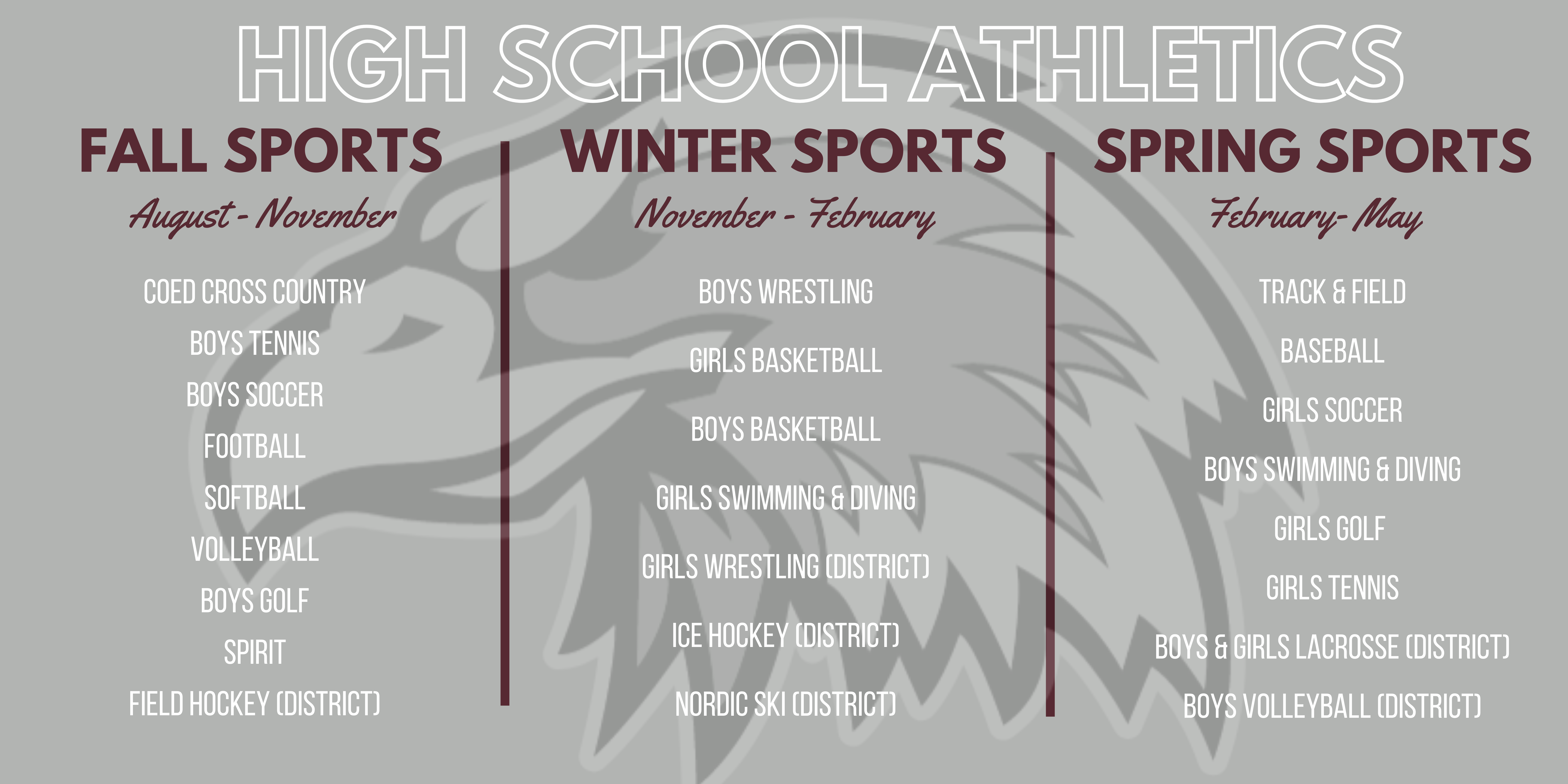 Poudre School District offers a variety of athletic opportunities for students at the high school level. Each comprehensive high school in PSD has a full time Athletic Director who is charged with overseeing the athletic programs. 
| ATHLETIC FEES | All Sports | Unified Sports | Ice Hockey | Nordic Skiing |
| --- | --- | --- | --- | --- |
| PSD Non-Charter Students | $205 | $100 | $205 plus up to $1,000 | $190 plus pay as you go |
| Home-Based, Charter & Private School Students | $305 | $150 | $305 plus up to $1,000 | $285 plus pay as you go |
No family maximum for fees.

Fall Sports: Boys and Girls Cross Country,  Field Hockey*, Football, Boys Golf, Girls Gymnastics*, Boys Soccer, Softball, Spirit, Boys Tennis, Girls Volleyball
Winter Sports: Boys and Girls Basketball, Ice Hockey*, Girls Swimming/Diving, Wrestling, Nordic Skiing, Girls Wrestling*
Spring Sports:  Baseball, Girls Golf, Boys and Girls Lacrosse*, Girls Soccer, Boys Swimming/Diving, Girls Tennis, Boys and Girls Track & Field, Boys Volleyball*
*Athletic programs not offered by all four comprehensive high schools. These programs are combined teams. CHSAA requires the combined teams to be assigned to a specific high school. Information below identifies the combined sport and which high school it's assigned to. Students interested in the combined athletic programs may register at assigned school or through the athletic office at their high school (if a student at one of the four PSD comprehensive high schools).
Gymnastics - Rocky Mountain High School
Field Hockey - Fossil Ridge High School
Boys' Lacrosse - Timnath High School
Girls' Lacrosse - Rocky Mountain High School
Ice Hockey - Fort Collins High School
Nordic Skiing- Poudre High School
Girls' Wrestling- Poudre High School
Boys' Volleyball- Fossil Ridge High School
Unified Sports - Special Olympics of Colorado Unified Sports offered at each high school.
Basketball
Cheerleading
Flag Football
Soccer 
Summer Programs: Any athlete participating in summer training with their high school team must complete this waiver and return it to their coach. PSD Athletics Summer Programs Waiver
 All high school students participating in PSD Athletics must have these forms completed online or turned into their school prior to participation:
2023-2024 High School Athletic Registration Forms
Pay athletic fee. Students who do not pay will not be allowed to participate. No family maximum.
Espanol 
Pay athletic fee.  Student who do not pay will not be allowed to participate. No family maximum.
Sports Physicals 
Does your student need a sports physical?  The Health and Wellness Center at Centennial High School offers sports physicals/well child exams June through August. The Center can bill insurance and no child is ever turned away for inability to pay. For more information, visit the  https://hwcenter.org/ or call the office at (970) 488-4900.
ELIGIBILITY REQUIREMENTS
Per CHSAA, student athletes must not have more than one failing grade (1.5 or below) to be eligible for competition play.  High School coaches may choose to implement higher standards in each sport.  If a student fails more than one high school class in the spring semester, they will be ineligible for competition until the CHSAA Fall Regain Date.  If a student fails more than one class in the fall semester, they will be ineligible for competition until the CHSAA Spring Regain Date.
Practices
High school practices are held from 4:15-6:15 M-F. Practices may be held in the morning & on Saturdays. Please reach out to coaches for most up to date information on practices. 
STUDENT ACTIVITY PASS
For $25 students can purchase an Activity Pass for access to all high school games and shows.  Follow the School Pay link in the menu.  A sticker will go on the student ID once this is complete.  This is available to all WMHS students for events where Wellington teams are playing in PSD.
PSD Ejection Policy for Spectators
Any spectator affiliated with PSD schools that is ejected or removed from an athletic venue due to poor sportsmanship will be placed on probation and not allowed to return to further PSD athletic events until the following have occurred:
The individual meets with the building administration to discuss future expectations for behavior.
The individual completes an approved NFHS Sportsmanship course.  The course is free and is available online.  A certificate of completion must be presented to the District Athletic Director as proof of meeting this requirement.
Repeated minor offenses or egregious acts of unsportsmanlike conduct including contact with an official, coach, staff member, opposing team members, throwing items onto court or floor, etc. will be grounds for law enforcement involvement and may be grounds for spectator to be permanently banned from all future PSD contests.