Welcome to the Wellington Middle High School   
Library Media Center!
The mission of the Wellington Middle High School Library Media Center is to provide our students, staff, and community a welcoming and innovative environment that invites and fosters high quality learning and instruction by providing excellent resources that enhance and expand individual learning styles, support school goals, give opportunities to practice 21st century skills, and inspire life-long learning and a love of reading.
Please talk to your Media Specialist Mrs. Colburn in the Library Media Center if you need help finding/reserving a book, looking up information for an assignment, using tech tools like WeVideo, Pixton, and Adobe Express, or anything else you have a question about!
More Access to eBooks and Audiobooks: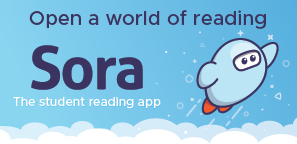 Check out eBooks and audiobooks with SORA.  Here's how to login and begin your reading journey:
Click on SORA icon above.
Click on "Find my School"
Select "Poudre School District R 1"
Login using your PSD credentials within Clever
Under the "Explore" heading, click on "Poudre School District R 1" and click on the Green Button that says "Add a Library"
Type in "Fort Collins" and Click on "Poudre River Public Library District"
You now have access to all of the public library eBooks and Audiobooks.  Click on any book to begin reading or listening!
The SORA app is also available for download onto any personal device.  Once logged in, your account is linked, so you can switch back from reading/listening on your laptop to your personal device and all bookmarks, notes, and highlights will be saved.  
Please contact Mrs. Colburn is you have any questions. Happy reading!
Do you need after hours homework help?
Try using Brainfuse Homework HelpNow!

Engage with live tutors in one-on-one, online sessions for students in grades K-12 and college through BrainFuse Homework HelpNow. It features assistance for specific subjects, an interactive writing lab and test preparation for exams like the ACT, SAT, PSAT, and various AP subjects. Live tutors are available 7 days a week from 3 p.m. until midnight. Also available in Spanish.  To access, you'll need a Poudre River Library Card.  If you don't have one, click here.
Check Out eBooks Anytime, Anywhere!

Access is easy.  Just, click on the Follett Shelf logo above.  Find the book you wish to read, click "Log In," click on "Poudre Single Sign-On," and log in the same way you log in to your laptop.
eBooks on Mobile Devices:
You can download the Destiny Discover Reader app on your Apple or Android device.  
To sign in to the Destiny Discover Reader app, choose "Colorado" for Location, type in "Wel" to find the school, and log in how you would log in to your laptop.  Click submit.
You can also read eBooks from a mobile device that does not have access to Google Play or Apple App store. Any device with an internet connection and a web browser can access eBooks.