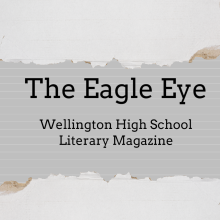 Click here to see our first edition of the student run Wellington High School literary magazine, The Eagle Eye. The website is a collection of 9th and 10th grade WMHS student poetry, personal narratives, digital stories, fiction stories, digital art, painting, photography, sculpture, song lyrics and performances, and more.
The Eagle Eye student editors have been tireless over the course of the year, meeting weekly to title the magazine, come up with a theme for our first issue, solicit and edit submissions, and make design decisions. This year's editors are:
Adelyn Edge
Deena Holman
Rebekah Johnson
Elaina Woodward
Other contributing staff members, without whose help the magazine would not have evolved as it did, include Molly Comer, Ace Laviolette, Nolan Johnson, Brennan Ward, and Iyla Yunt. We are grateful for their input!
Speaking of gratefulness: special thanks to our high school art teachers for encouraging our student artists to submit their work, and to Christine Jasmann for giving her students the confidence to share their writing.
We are thrilled to create a platform for the following student writers, poets, musicians, artists, and photographers on our site. It takes a lot of courage for creatives of any age to put their work out there for the world to see. Here are this year's contributors:
Zoey Bonney
Ava Essay
Madelynne French
Shaia Hersh
Deena Holman
Rebekah Johnson
Christopher Miller
Lacy Mize
Lukas Moffett
Abigail Onsurez
Anastasia Panella
Kaelyn Seals
Ava Vega
Brennan Ward
Hayden Whitaker
Elaina Woodward
Iyla Yunt
And none of this would have been possible with the dedication and advocacy of our staff advisor, Jen Mitchell.